I had been meaning to do a post about this for some time but since reading the
Pride and Prejudice Comparison
at
Elinor, Elizabeth, and Emma
(which I encourage you to read! It's very interesting), I finally wrote this post. We see it all over in the period drama blogging world and even with family and friends who aren't into period dramas like we are. There are countless comparisons between Pride and Prejudice 1995 and 2005 (I myself have only seen half of the 2005 movie). But there is something that fans of both the 1995 and 2005 versions of Pride and Prejudice commonly say...
Susannah Harker is not pretty like Jane Bennet is supposed to be.
Rosamund Pike as Jane Bennet
in the 2005 movie of Pride and Prejudice
Either that or some say that Rosamund Pike looked more like the Jane Bennet they pictured while reading Pride and Prejudice. Now, don't get me wrong: I like Rosamund Pike... Not necessarily her Jane Bennet, but I did like her as Lady Harriet Cumnor in Wives and Daughters. But between Susannah Harker and Rosamund Pike as Jane Bennet, based on looks I think that Susannah Harker was a better/more accurate Jane Bennet.
But Susannah Harker isn't pretty enough to be Jane Bennet, you say? Everyone in Pride and Prejudice (1995) says that Jane Bennet is prettier than Elizabeth, though Elizabeth is way prettier than Jane. What's with that?
A Regency lady. Notice
the Grecian/Roman influence
of her dress.
I acknowledge that in the 1995 miniseries of Pride and Prejudice, Elizabeth was the prettiest of the two (and in the book, while Elizabeth is pretty, she isn't a pretty as Jane), but I think that we are making that conclusion through our modern eyes and how we look at beauty today. What people describe as beautiful or attractive changes constantly: in the Victorian Era, a tiny waist was considered attractive; in the Middle Ages, a high forehead was beautiful, etc. But what was considered beautiful during the Regency Era?
During the Regency Era, Ancient Greek and Roman styles were all the rage. Women dressed their hair similar to how the Ancient Greeks and Romans with curls framing their face. I've seen pictures of Regency women wearing Romanesque/Grecian crowns on their head. Take a look at the picture to the right. There are a lot of Roman/Grecian influences in the lady's dress. The way her hair is put up, the crown, and the gown she wears all have some form of Roman or Greek influence.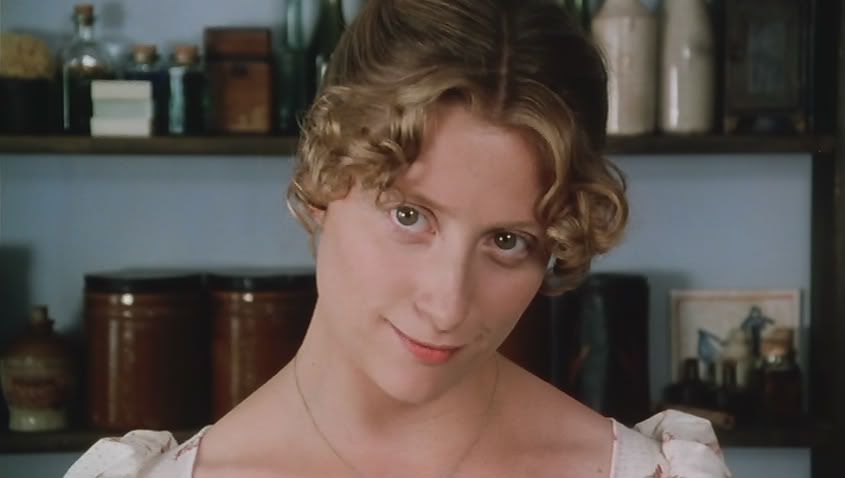 Susannah Harker as Jane Bennet
Now, let's look at Susannah Harker as Jane Bennet.. The way her hair is done and the way her face is shaped almost looks like how artists would portray Roman and Greek goddesses from mythology, which is what was in vogue at the time and what people would have admired in pretty women. So, if you were ever confused why in the 1995 Pride and Prejudice everyone said that Jane was the prettiest of her and Elizabeth, think of it that way: what was beautiful, attractive, and fashionable at the time was something that Susannah Harker's Jane had.
So while Rosamund Pike is pretty to us, she doesn't capture that Roman/Grecian/old-fashioned look that was considered beautiful during the Regency Era, however Susannah Harker captures this look and gives Pride and Prejudice 1995 more of a Regency, old-fashioned feel to it.
What do you think? Do you think my argument make sense? Or do you disagree? Leave a comment!
---
God Bless,