Please note: I have seen parts of The Patriot, but I haven't reviewed it yet. It is a fairly violent movie, so be careful if you watch it on DVD. You may do better content wise if you catch it on TV where a lot of the violent scenes would have been edited out, but still be warned -- even on TV, it earns a TV-14 Rating.
There are some lovely costumes in The Patriot. There are only a few female main characters (though there are some extras): since it is a war movie, most of the main characters are male. But for the few female main characters, there are some very nice costumes.
The British characters are (from what I saw) were all men and all of them wore the usual red coat uniform, while the American soldiers/allies wore blue/navy colors.
Mel Gibson (center) as Benjamin Martin in The Patriot. To the right is Gabriel Martin, played by Heath Ledger.
There was one hat that I have never seen before looking at historical Georgian fashions. And that would be this one:
I don't recall ever seeing a fur hat like this hat worn by Colonel Tavington. If anyone has any more information about this kind of hat during the Revolutionary War, please leave a comment so I can update everyone. I'll of course give you credit.
Next the ladies costumes.
There were only a few women characters, the main ones being Charlotte Selton, Benjamin Martin's sister-in-law, and Anne Howard, who becomes Gabriel Martin's wife later in the movie.
First, let's start with Charlotte. One of my favorite dresses in the movie is the purple dress (okay, I have a few favorite dresses, but this is one of them). It has some nice draping in the back of the dress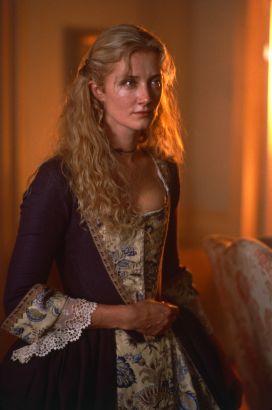 Charlotte Selton in her Purple Gown

Charlotte also had this nice pinkish dress towards the beginning of the movie.


Now that I've gone through a couple of Charlotte's costumes, now it's time to go onto Anne's. Anne also had lovely dresses throughout The Patriot. She had a nice wedding dress on when she married Gabriel Martin (sorry, the only picture I could find that was any good was a side picture). I love the way her hair was done with that little crown. The only thing I'm not fond of in this outfit is the VERY thick choker. But other than that, it was a great outfit.
Anne and Gabriel's Wedding
I also like this outfit (sorry it's in black and white). Here's another picture so you can see the colors: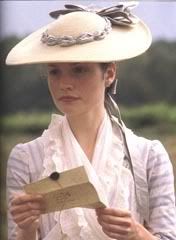 I kind of like the ruffle that they used for this outfit. And the hat is very nice too!
Also, I love this cap Anne wears!
So that is my movie highlight for the day. Have you seen The Patriot? What were some of your favorite costumes?
---
God Bless,